Schedule for Open and Senior Tournament 2015
27st February - 10 a.m. to 2 p.m.
---Inscription in the Kurhaus
---3 p.m. 1st round
28. February - 2 p.m. 2. round
01. March 2 p.m. 3. round
02. March 2 p.m. 4. round
03. March 2 p.m. 5. round
04. March 2 p.m. 6. round
05. March 2 p.m. 7. round
06. March 2 p.m. 8. round
07. March 10.00 Uhr 9. round
16.30 Uhr closing ceremony

2014
And the winner is: GM Aloyzas Kveinys!
The well-known Lithuanian grandmaster shared the victory with four other GMs (all 7/9). The Senior Tournament was won by FM Hans-Joachim Neese in front of FM Dr. Bernd Baum.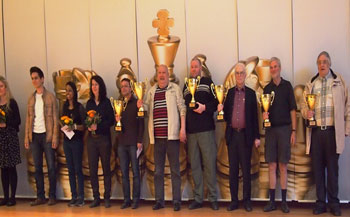 320 players were participating in the Open and Senior Tournament, among them 12 GMs and 2 WGMs. As usual the tournament hall was the grand Kurhaus in Bad Wörishofen.
A nice success for Christoph Singer from Bayern München: With victories against the GMs Naumkin und Nikolov he was leading after 6 rounds and finally reached 6,5 points, place 9 and an IM-norm. Marius Maier also played a very strong tournament who started with Elo 1949 and reached 6,5 points among the Grandmasters. The best women were WIM Raghavi from India, 14-years-old WIM Zhansaya Abdumalik from Kazakhstan und WGM Monica Calzetta from Spain (all 6 points).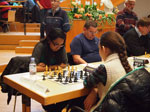 Have a look with google maps how to come here and meet friends in a very special atmosphere. Link to the announcement 2014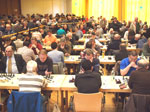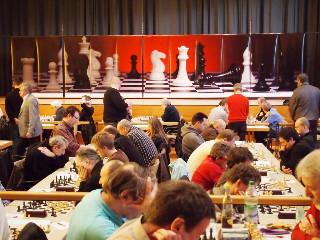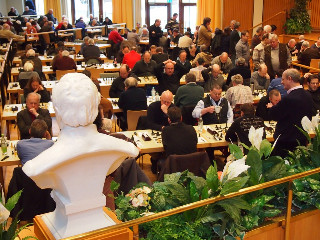 In 2013 the festival attracted more than 300 players. In the Open five players shared the victory, of whom GM Vladimir Epishin had the best tie-break.
Rankings from 2014
OPEN - SENIORENTURNIER
Rankings from 2013
OPEN - SENIORENTURNIER
Rankings from 2012
OPEN - SENIORENTURNIER
Rankings from 2011
OPEN - SENIORENTURNIER- NESTORENTURNIER
Rankings from 2010
OPEN - SENIORENTURNIER
Rankings from 2009
OPEN - SENIORENTURNIER
Rankings from 2008
OPEN - SENIORENTURNIER