41.Gold-Cup in Meran 2013
The Gold Cup 2014 will take place from 25.4.-3.5., this time in Hotel Palma!
The winner of the Gold-Cup 2013 was Frank Fleischer from Ulm.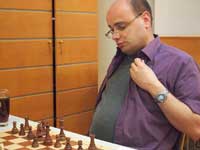 The old town of Meran has been attracting tourists for more than a hundred years. The merchants streets called "Lauben" and the famous "Promenade" at the borders of river Passer and the newly built Therme are a few of many attractions of Meran.
The spring will have arrived already when the chess tournament is here. Apple trees are in full blossom and show an exceptionnal scenery.
The chess tournament will take place after Easter 19 to 27 April 2013. 9 rounds Swiss System, 40 moves in 2 hours and 30 minutes extra time to the end.
The image shows the Kurhaus in the center of Meran, few minutes walk to the exquisite district Obermais with it's traditional hotelery.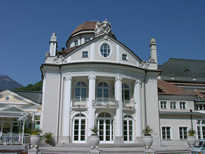 Getting here
By car: the fastest way is with the Brenner-Autobahn via Bozen, exit Bozen-Süd in Meran. Alternatively you can drive the Reschenpass, but even there you might have to pay Maut for a small section of Austrian motorway.
The approach to Meran is also handy per Bahn or airplane (Bozen (Flights via Rom) , Verona oder Bergamo) . Bustransfers ab Flughafen werden angeboten.
Hotels
Bavaria and das Hotel Palma .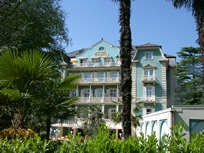 Enjoy the pool, spa and so on! Call us or send an email!
---